Covid-19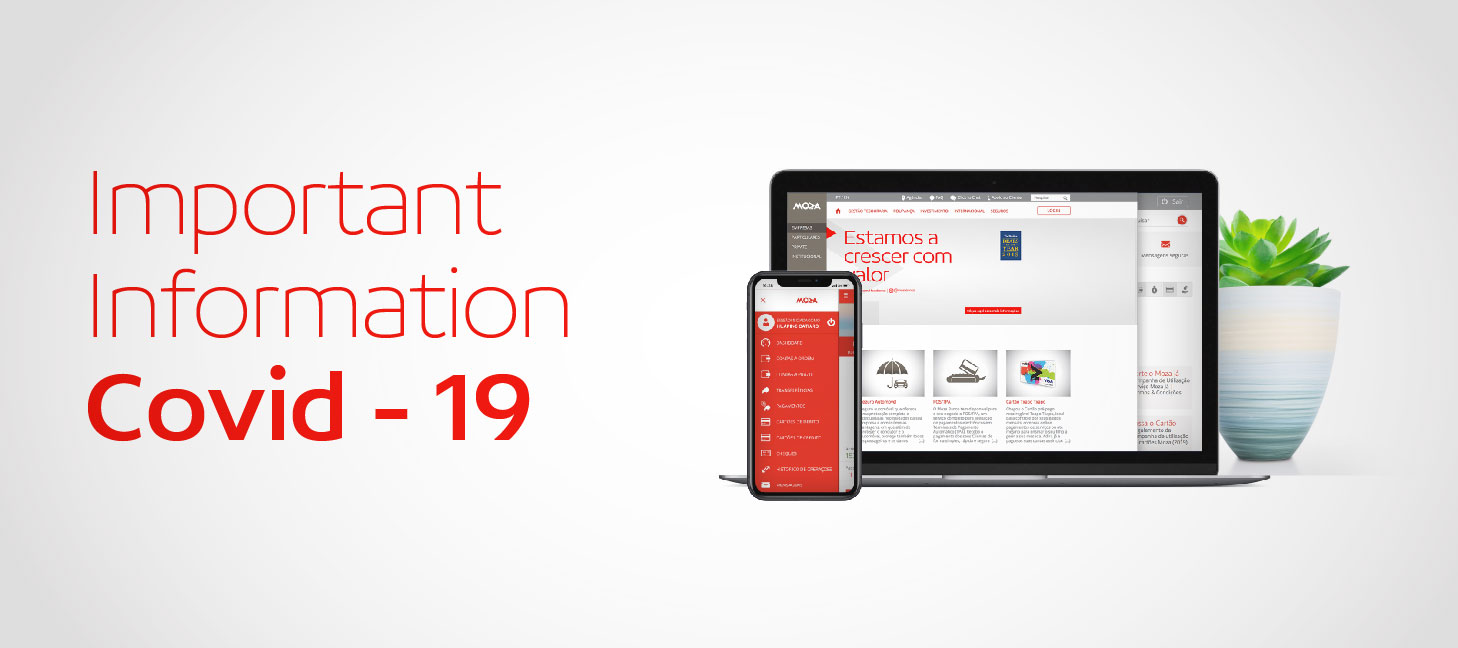 WHAT WE ARE DOING:
We provide hand disinfectant at the entrance to all our branches, ATMs and kiosks;

We provide Customers and users with thermometers to measure body temperature;

We ensure that our facilities are cleaned thoroughly and regularly: Branches, ATMs and Kiosks;

All of the bank's employees are instructed to disinfect their hands regularly, routinely clean their individual work areas and wear protective masks when serving customers;

To comply with the 1.5m interpersonal distance, we have established a maximum number of customers permitted to be simultaneously within each branch. The other customers are advised to wait patiently for their turn outside, respecting the recommended interpersonal distance;

With a view to optimising our services and branch network, we have suspended all our units from operating on Saturdays.
WHAT YOU SHOULD DO – BEST PRACTICES TO ADOPT WHEN USING BANK SERVICES
Respect a minimum interpersonal distance of 2 metres, outside and inside the branches, and in queues at ATMs and kiosks;

Take your body temperature before entering our branches (using the device provided);

Disinfect your hands before entering inside the Branches, before and after using ATMs, Kiosks and POS;

ALWAYS wear a mask (Remember that a visor does not replace the mask);

Favour the use of our digital channels (

Moza Já

,

Moza Net

, and

Moza Mobile

) or via

telephone

to carry out day-to-day banking operations or speak to your Relationship Manager. If you have not yet signed up for Digital Channels, you can do so at your nearest branch;

Only use branches in case of absolute necessity, especially if you belong to a high risk group (elderly people, people with chronic diseases or a weakened immune system);

When you cannot use digital means to make transfers, pay for services or buy top-ups, use

ATM

s

or Kiosks, minimising personal contacts - The use of remote Channels, such as ATMs and POS should be preceded and followed by hand hygiene and disinfection;
STAY ALERT!
With greater use of Remote and Digital Channels, online security precautions should be reinforced:
Always be on the lookout for suspicious emails or links related to updated or important information on coronavirus.

The bank will never request personal information by email.

In case of doubt, it is always safer to delete an email.
Protect yourself from COVID-19.
Moza, the bank that gives you full Value!