Login
For security reasons we do not recommend the communication of any banking data via email or phone.

Please note that you should not access the links contained in any message received on behalf of Moza Banco.

If you receive messages requesting information, passwords and other bank details, you should delete the message and never access the links or open their attachments.
Moza Classic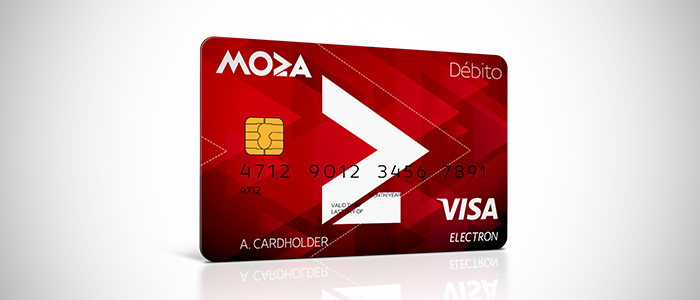 Moza offers you a convenient Debit Card for the effective management of your day-to-day needs. With this card you can have immediate access to your Current Account in Metical, at any time of the day or night.
The Moza Electron Debit Card is an ideal instrument for paying and managing your needs from day to day.
Advantages:
Have immediate access to your Current Account;

Valid in Mozambique and abroad;

Valid for all ATM and POS connected to Visa or Ponto 24 network symbol;

Convenient, modern and secure instrument of payments;

Access Moza Banco functionalities and services via ATM;

Immediate access your Demand Deposit account at any time;

Comfortable, modern and secure to be used in the country and abroad;

Management of day-to-day needs with complete freedom;

When paying for purchases, it can round the amount; reinforcing the saving account;

A built-in chip that makes it highly secure for transactions;

Benefit from Visa's global assistance services.

International assistance coverage 24 hours a day, 7 days a week, 365 days per year in emergency situations such as card's loss or theft, among others situations. Just dial:
In USA or Canada:                               

+1-800-847-2911

Outside USA or Canada:                       

+1-303-967-1096
Access conditions: complete and sign the "Subscription of Products and Payment Methods "form